A Cycle Plan for Pune
"Pune can be a city where people find cycling, using public transport and walking convenient, comfortable, safe and attractive. Tell me how PMC can help you use a cycle, bus or walk wherever you want to go, for your day to day travel needs. I am committed to address your concerns."
– Kunal Kumar, IAS, Pune Municipal Commissioner on World Environment Day 2016
The Pune Cycle Plan being prepared in 2016 is your chance to help make Pune a cycle-friendly city.
The vision for future transportation planning as accepted in the  Comprehensive Mobility Plan of Pune (CMP) is
"Moving people safely and economically by emphasizing public transport and non-motorized transport."
Tidbit: 1.6 lakh vehicles were registered in PMR last year. There are more vehicles in Pune than Mumbai.
Citizens Engagement in Preparing the Plan
Citizens' inputs will help in shaping the Pune Cycle Plan.There are several opportunities to be involved.
See https://punecycleplan.wordpress.com/have-your-say/ for full details. Copying the page's contents below: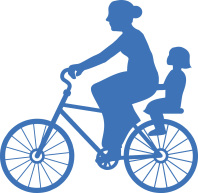 Public inputs are invited for the preparation of the Pune Cycle Plan, which is an initiative of the Pune Municipal Corporation (PMC). Inputs are needed, especially from cyclists about:
Cycle Tracks, Lanes – Tell us about infrastructure needs –

suggestions for location of separate cycle tracks, cycle lanes, 'cycle only' greenways
suggestions for location of cycle parking/ cycle stands

Unsafe Places – Give information about spots, segments, crossings that are unsafe for cycling and must be addressed through physical infrastructure or management
Promote Cycling – Suggestions for how to promote cycling as a mode of transportation in Pune
Partnerships – Information about possible partnerships that may be possible with educational institutes, work places, public organizations etc to improve facilities for cyclists and to popularize cycling.
Your inputs will be used along with the results of studies and surveys currently underway to propose the Bicycle Network and other elements in the plan.
How to Participate
There are a few different ways in which you can share your views
Please click Online Inputs and contribute information and suggestions
Participate in the public meeting to be organized at your ward – the schedule for the meetings will be published on this website and in newspapers. Remember, there will be two rounds of public meetings at the ward level

First round in June 2016, where you can give your inputs for the preparation of the draft Cycle Plan – please click to see the schedule of consultations
Second round in July 2016, in which you can see the draft Cycle Plan and make further suggestions for its improvement

Write to us:

Email: punecycleplan@gmail.com
Letters: Please write 'Pune Cycle Plan' in the subject line and post to
Traffic Department, Pune Municipal Corporation
3rd Floor, Veer Savarkar Bhawan, Shivaji Nagar, Pune 411005
---
Please see the full website, https://punecycleplan.wordpress.com for finding out more. There are some interesting projects like Public Bicycle Share System coming up.
---
Map