Most dishwashers contain chemicals, additives and odor fighters that are not at all pure. These chemicals can be harmful. Just look at the detergents in your cabinet now and note that they suggest immediate visits to doctors. This is not something that you want on your dishes. After all nothing comes prior to health of family.
Krya came out with complete natural and biodegradable solution to this along with being vegan and cruelty free product.
check out more and buy online at – http://krya.in/index.php/shop/krya-natural-dish-wash-powder.html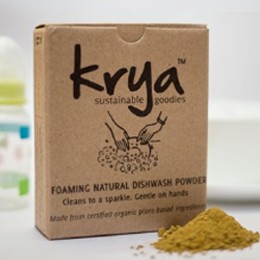 About product –
Made from a researched and tested combination of the following certified organic ingredients – soapberries, neem, zedoary and lemongrass essential oil
Contains 2% natural calcium carbonate powder to keep the dishwash powder dry
Contains no artificial additives like colours, fragrances, enzymes, bleaches or anything else
Is made from plants and not petroleum
Designed for hand washing of dishes ; not yet tested in a dishwashing machine.