The Farm is a place for Love, Awareness and Learning. A love for the self and for the Earth, an awareness of our surroundings and our self and a learning from the animals and from the Earth herself.
Spread over 2 acres and adjoined by forest land, The Farm is a green escape from the noise and madness of city life. Built completely in continuation with the natural terrain, 80% of the space has been made from scrap and waste and with minimal concrete.
We are home to over 1400 trees, over 62 species of birds, several butterflies, creepy crawlies and even the visiting langurs, spotted deer and wild boar. In a favourable rain year, we harvest almost 4 million litres of water annually.
Our doors are open to everyone who has a desire to leave the hustle bustle for a while and come back to nature and to the self. We are open to all age groups and people from all disciplines. We truly believe that it is an Open World and our doors are open for anyone who chooses to walk in.
PEF Founding Director, Pooja, permanently lives in a tent on The Farm with 9 dogs, 8 cats, visiting animals, birds and a care-giver couple.
There's an event happening there on 26 June 2016: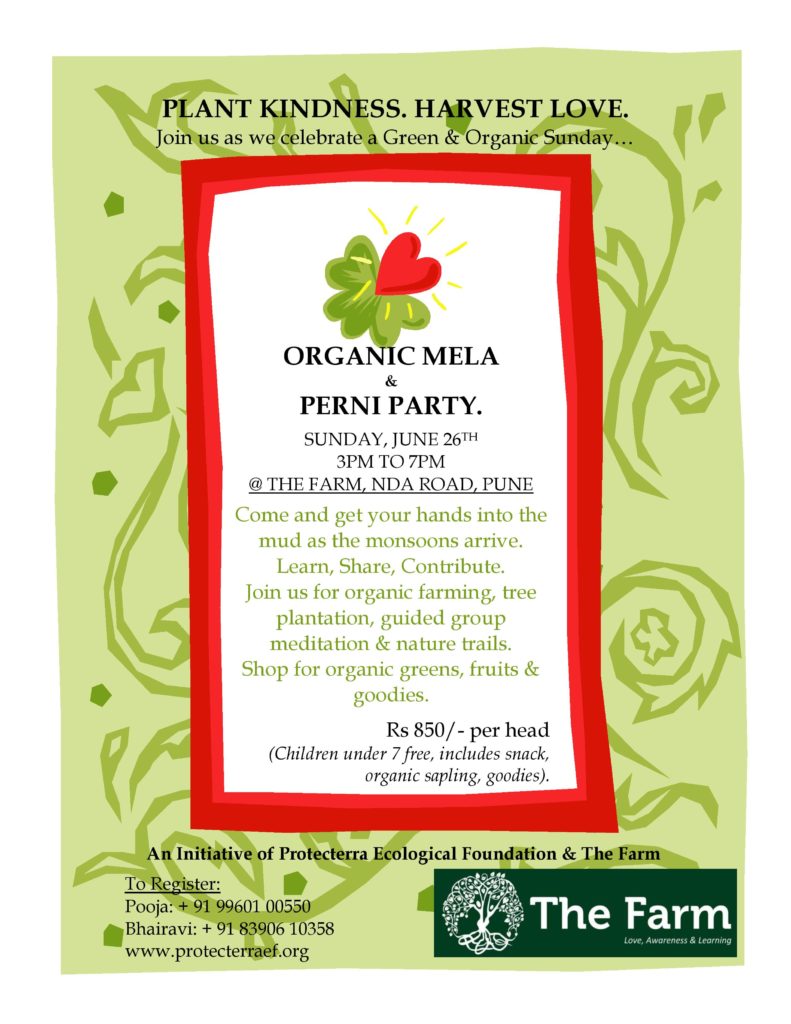 The time is perfect. Perfect to get muddy in the monsoon rain….
The time is perfect. Perfect to get your hands into the soil…
Join us this Sunday 26th of June, 2016. Details are in the brochure above. The event is open to all ages and all those who want to join in.
More people must get connected to The Earth. Then they will be connected with the self.
Share this email, forward it, spread the love.Let us make a date with the Planet…. And give back. Let us plant, plough, share, learn and shop too.
To register or for details:
Please call, SMS or WhatsApp:
Pooja: + 91 99601 00550.
Bhairavi: + 91 83906 10358
Payments can be made by transfer or we can collect cash too. Just get in touch to register.
All funds raised from the event will be utilised for growing The Farm and PEF's other projects.
Love, light and hugs,Pooja…
Personally Sent To You as an invitation from the desk of:
Pooja R. Bhale
Director
Protecterra Ecological Foundation & The Farm
Pune


---
Map